Clay Pit Stables in Germany
Where horse, rider and non-rider feel comfortable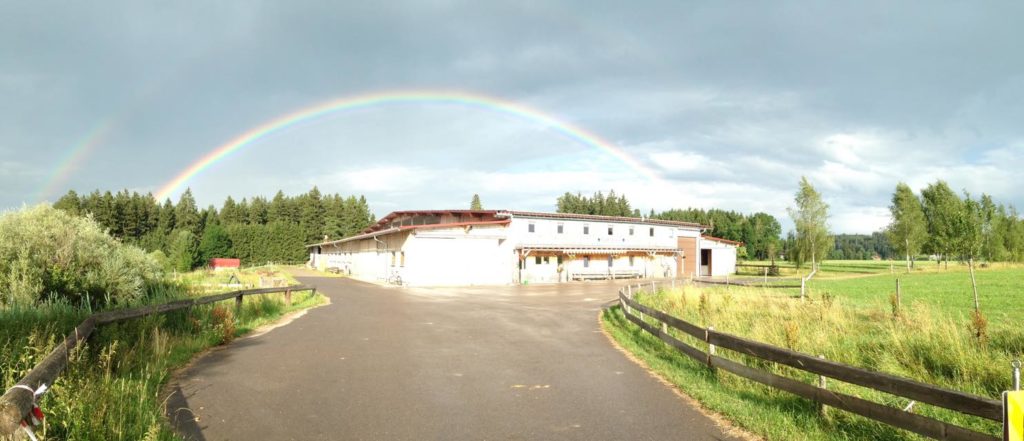 Missouri Foxtrotter in the Allgäu
Clay Pit Stables got their name from the neighbouring environmental protected area, which seved for clay mining up to the early 70ies. Today this piece of land provides habitat for various types of dragonflies, toads and frogs as well as a variety of snakes, other amphibians and lizards.
Our Missouri Foxtrotters are grazing along as well as a variety of different horse breeds and our agistment horses.
Tom became familiar with the USA breed the Missouri Foxtrotter during a ridiing holiday in 1996. According to the American saying "to ride one is to own one" Tom got hooked on this special horse breed and bought the mare "Hope's Foxey Wild Rose" in 1999.
Soon it became obvious that group riding excursions with other breeds weren't really relaxing due to the different paces of other horse breeds. That's why a while later the second Foxtrotter Sierre Mist W." was purchased.
Having a top-qualitiy stallion, two mares and the enthusiasm for the breed – that's what made us start breeding.
Throughout the following years our numbers continually grew. In 2009 the foundation was laid for the new riding arena and stables. Springtime 2010 the first horses moved in. In the following years we continuously hosted various events, for example: a number of international Foxtrotter-tournaments, our annual homestable-fun-event, various training courses, training for judgement, a breeding show and many more.
Clay Pit Stables is also recognized and valued in the US because of the attendance and success in the tournaments for years of Johanna (World Champion Youth 2011) and Gerti (Open Amateur Versatility World Grand Champion9 in the "Show and Celebration" in Ava Missouri, as well as for team breeding with the MFTHBA (Missouri Fox Trotting Horse Breed Association).